Yellow is the color of the sun, it brings warmth to your soul, and it is always a chipper cheery color. Here are some beautiful examples from Mizz. Martha.
A great magazine and a cup of tea here please...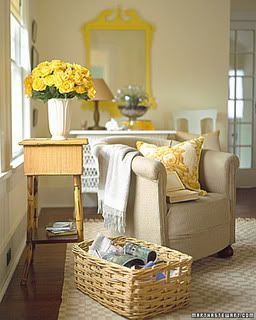 So cozy, not too much or too little, the amount of color that is...
Waking up every morning to splash some water on my face here, perfect...
I would love walking own this hall every day, enjoying the memories of times past put together impeccably...
White walls, neutral sofa, and pops of yellow in the drapes and pillow, the perfect spot for me to curl up with my laptop and blog...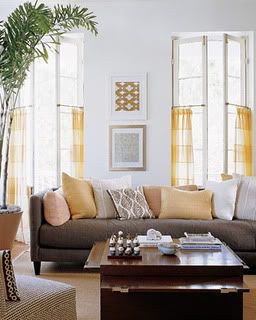 Another beautiful sitting area. Reminds me of a spot in a nursery with the white breadboard walls, sweet and innocent...
My favorite thing about this room, besides the ridiculously sized stuffed tarpon above the sofa is the darker paint on the ceiling, something I am going to do in a few rooms in the next home...
If the sun isn't shining where you are I hope this post brings some rays of light to your day, enjoy it! Mel :)