My favorite summer desert that is too easy, beautiful, and yummy!!! This is my version, an adaption from Martha Stewart, enjoy...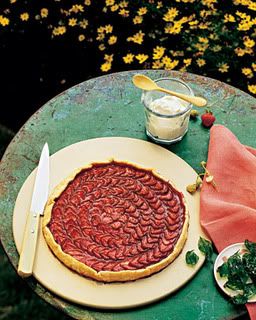 STRAWBERRY GALETTE W/ BASIL CREAM
Served 4 - 6
FOR THE BASIL CREAM
3/4 C. heavy cream
1/3 C. loosley packed chopped fresh basil
2 T. sugar
3/4 C. mascarpone cheese
FOR THE GALETTE
1 lb. strawberries
1/4 C. sugar + 1 T. sugar
2 t. cornstarch
1 large egg yoke
1 T. water
1 T. cold unsalted butter, cut into small pieces
1 pie crust from the refrigerated section, such as Pillsbury
Make the basil cream:
Combine cream, basil, and sugar in a heatproof bowl. Set over a small saucepan of simmering water, and stir until the sugar dissolves, about 4 minutes. Cover with plastic wrap, and refrigerate for at least 2 hours or longer (the longer it sits you will get a more pronounced basil flavor). Strain through a fine sieve into a bowl. Add mascapone, and whisk until medium peaks form. Cover and refrigerate until ready to serve, up to 4 hours.
Make the galette:
Pre-heat the oven to 350. Roll out the pie crust on a sheet of parchment paper. Cut strawberries lengthwise into 1/4-in-thick slices. Toss slices with 1/4 C. sugar and the cornstarch, and immediately arrange them in circles on the dough. Start 1 inch from the edge, overlapping slices slightly.
Fold edge of dough over berries. Refrigerate for 15 minutes.
Whisk together yoke and water. Brush dough with the egg wash, and sprinkle with remaining 1 T. sugar. Dot berries with butter. Bake until crust is golden brown, 40 - 50 minutes.
Transfer to serving plate. Serve warm or room temperature with basil cream.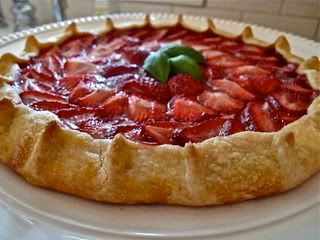 I hope that you give it a shot, I have made it for numerous get togethers and BBQ's...it is ALWAYS a hit. Have a great, safe, & fun weekend, I am off to get ready to entertain again this evening. Mel :)