Here is an absolutely amazing 19th Century townhouse in Brooklyn that was renovated by Levenson McDavid Architect. It makes me miss my time in NYC so much, and it also makes me regret that I never went to Brooklyn and i lived there for 4 years...guess it is time to go back.
I would love to roll up in a bright yellow cab and enter through the
front door for a great dinner party, I'll bring the wine.
In the great room the subtle color pallet allows the trim work to stand out...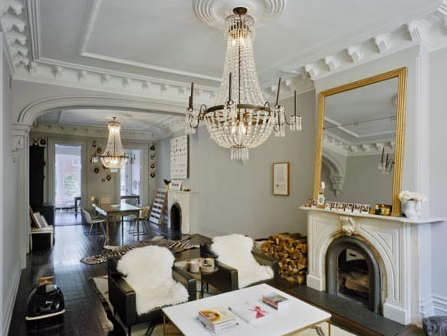 I love how they matched the chandeliers in both the dining room & great room,
brings cohesiveness to the area.
The kitchen flows with the colors and simplicity. I just love the seating alcove with all of the windows. Great spot for a cup of coffee in the morning.
The master bedroom uses the original fireplace and a large modern chandelier as the focal points.
Yes, I love you to the herringbone hardwood in the the bath, stunning.

Finally, how fun is this backyard. The curved staircase takes you to an area where great
memories are sure to be made.
Hope you found some inspiration in one of these images, I know I did. Have a great day!! Mel :)