Here is a post from back in April, how funny is my comment above the first image '
I am typically not a fan of stainless steel hoods'.
Really Melissa, your taste seem to have changed quiet a bit and
THIS
post is proof. Enjoy this blast from the past....
I find that every kitchen design I do is based around the kitchen hood. It is not only the center of the kitchen layout, but it is also the section that allows you the most creativity.
Here are a few beautiful images that I have found recently along with some from kitchens I designed in the past, enjoy!
I am typically not a fan of stainless steel hoods, but the shape that this one has makes it less industrial and more traditional looking.
Copper, how I love it!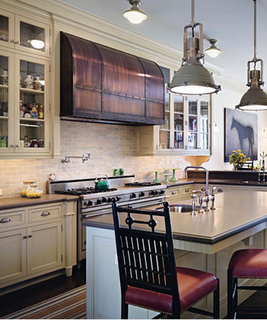 Image via Houzz
The way that this hood is framed by the the cabinetry really makes it a focal point. It is definitely one of my inspiration photos for an upcoming kitchen project.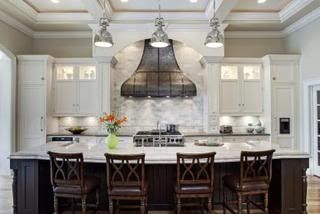 Seriously, how cool is this?!?! A wood burning oven behind the range. Is it the most practical location, maybe not, but great use of space.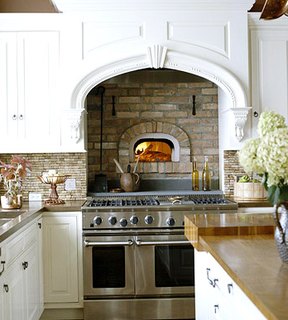 Image via Southern Accents
Simply making this hood a focal point by raising the top of the cornice above the surrounding cabinets, clean and simple.
Image via Architectural Digest
Here is one that I designed for a custom home last year. The hood is finished off with a mantle detail, shaker style paneling and spice towers on each side.
This is our current home now, I will admit that I am a bit 'over' it. I have designed so many hoods similar to this since clients can see it in life. The sloping design does add drama to the space.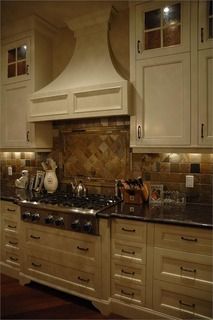 A more contemporary play on what we have. Keeping it simple with angles rather than the curve.
One almost identical to what we have, but I do love it in black so I had to share. Hard to believe this was a kitchen I designed 5 years ago now.
This was for an inner-city spec home we built last year. The space was small, but I still wanted it to have an impact. I used bead board panels for the hood front to give it a twist.
I hope your weekend was good to you, enjoy your Monday!! Mel xoxo