On my way back home from a morning walk, I was wondering all the way long what is the defining part of my whole personality which outshines everything? I reached my doorsteps, was lodging the key in the socket and that's when it popped into my head – what is the most defining room in my home? All in all, it had to be my living room. The living room is one place where my family spends most of their time at home. Living room is our family room, it's also our sitting room basically it does outshine everything and it defines my whole personality. So I have decided to share with you guys some ideas through my own living room designing experience.
So let's dig into it. When you enter my living room, the first component you see is a fireplace. Initially (before my divine epiphany of renovating my family room), my fireplace had this rugged look and was merely having the background of plain concrete. This concrete was fairly black by now since years of usage. What I did was, cleaning it down thoroughly and cladding the walls around and in the back with some marble subway backsplash tiles. I must say, this was the one idea out of all which I tried in my living room that made my fireplace really make a strong impression on the entire room. In my opinion, the idea for using backsplash tiles can really spark your living room as it did to our family room and you can find some great options for backsplash tiles to shine your Home Décor.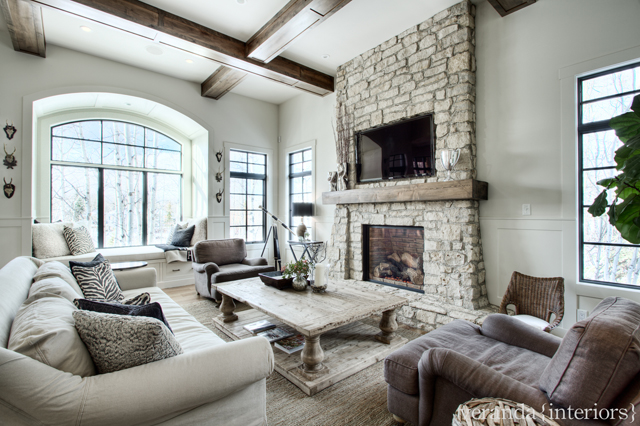 Next step, our family room walls, I have almost four walls in my living room. I selected the floor matching and fireplace complementing wallpaper for the walls which have a door in it. For the rest three, I choose more of a durable alternative i.e. paint.
Around the rest of the house, I have more of grey-browns earthly themes. I had to make sure that family room is not alienated in that matter. I added in heavy blinds of brownish velvet imitation on prominent steel bars for hanging. Since the foyer, through which you make the entrance to my living room, has the marble flooring and the marbles are grey white combination, the coffee table I placed in was of silver marble patterns for the living room.
We had hardwood flooring already installed in my living room before so I was bound to it, but if you have a luxury of changing the flooring then you can do a lot since the color of your living room is very much dictated by the type and stain of the hardwood flooring you use. Basically, what I have done in my living room you can do it in your living room and more.